Although the ceremonial dress of the Knights of Columbus is that of knights of the age that Christopher Columbus lived and centuries before, we look at ourselves as 21st Century knights of Christ the King…….willing to defend the Church against physical, legal, and verbal attack; fight to conserve Christian values in our society; serve God, our parishes, and our communities; protect the Blessed Sacrament and Christ in the tabernacle with our lives.
Thus the order is restricted to faithful practicing Catholic men.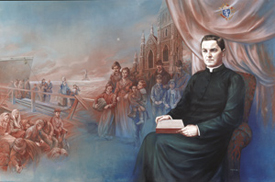 A painting of our founder, Fr. Michael McGivney (1852-1890)
with the people he served in the background.
In 1881 Fr. Michael McGivney, four years after ordination as a young 29 year old holy Catholic priest whose cause for canonization is in process, saw a need for a fraternal society for faithful, practicing Catholic men to give more security for their families. There were too many poor widows --as a result of industrial accidents-- who had to cope alone with their young children. His idea was to provide low cost life insurance to protect the families of the knights. Fr. McGivney's vision also included fraternal fellowship and the spiritual formation of its members while promoting good family life, patriotism, and serving the parish and the community. After starting up a Knights of Columbus council in his parish and others nearby, he died nine years later.
Since the Masons were so vehemently anti-Catholic at the time, Fr. McGivney most likely hoped that the Knights of Columbus would be a Catholic alternative to Masonry. In fact the Church today still forbids Catholics to be members under the pain of grave sin that deprives them from the sacraments and being accepted as Knights. Today, militant masonry has mellowed, but much of it, especially at the higher degrees are against Church teaching as brought out by a 32nd Degree Mason, John Salza in his book, "Masonry Unmaksed: An Insider Reveals the Secrets of the Lodge"
(
http://scripturecatholic.com/MU.pdf
). See also: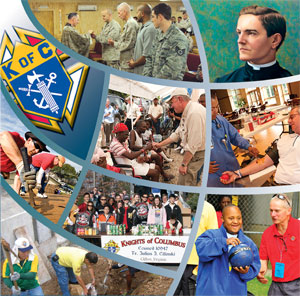 A bird's eye view of some of the activities of the Knights of Columbus with its emblem.
Knights of Columbus Life Insurance has financial ratings among the very highest in the industry. The profits (i.e., surplus) are distributed, not to stockholders, but to its insured and is also used for charities around the world. For example, the Knights of Columbus are among the leaders in the pro-life movement; many councils make the annual pilgrimage to the March for Life in Washington. It successfully helped to initiate and lobby for the insertion of "under God" in the Pledge of Allegiance in 1954 and continues to fight secular efforts to remove it in the courts. Today the Knights of Columbus has grown to more than 14,000 councils and 1.8 million members throughout the United States, Canada, the Philippines, Mexico, Poland, the Dominican Republic, Puerto Rico, Panama, the Bahamas, the Virgin Islands, Cuba, Guatemala, Guam, Saipan, and among off-duty military. For more information go to www.kofc.org.
If you are not a Knight, please talk to a member and look at its websites for more detail at
www.kofc.org
. There are many opportunities for great fellowship, a fabulous life insurance program to protect your family, and opportunities to serve the parish and the community. An active council in which all of its members participate can indeed be a force for good in the parish and the surrounding community.
May the following two prayers help to always keep us strong and active, always faithful to the Church and the mission of the Knights of Columbus as envisioned by our founder, Fr. Michael McGivney.
Lord, you are the Christ, Christ the King, King of the Universe.
We are your humble knights ready to serve at your command.
Use us according to your will,
to serve you and your people well and give you glory.
Don't let us do anything that might dishonor your Holy Name.
We are always your loyal knights from the vigor of our youth to sickness and old age…..
when we will unite our crosses with your cross and offer them for your kingdom on earth.
**Help us to be noble and worthy knights in the spirit of the knights of old…..
To generously do good in serving your Church, the parish, the community, and our country;
To perseveringly help and promote the cause of the poor, the defenseless, and the unborn;
To be men of prayer, honor, character, and integrity;
To boldly but prudently do what is right, morally and ethically, regardless of consequence;
To act with courtesy, modesty, and humility, but firmness without giving offense;
To be patient, caring, kind, and gentle men of courage and virtue,
chaste and pure according to our states of life;
To be devoted and faithful to our families as fathers, husbands, and sons…..
conscientious parents, providers, and protectors with St. Joseph as our patron.
To graciously treat all women with respect, dignity, and honor;
To do our part to restore our Christian culture to what it once was and to what it should be;
To be good Catholic leaders and blameless role models for youth to follow;
To encourage and promote vocations to the religious life;
To fearlessly defend the Church, the faith, and the truth against attack;
To appropriately evangelize in little or big ways by prayer, example, word, and deed;
To protect your person, ever present in the Eucharist, against defilement with our lives.
**Father, help us to do our part to establish your kingdom
And further your divine will on earth as it is done in heaven.
Holy Spirit, guide us in our decisions; tell us what to do, what to say, and what to write.
Sanctify us, strengthen us, and grant us your gifts, especially
fortitude, wisdom, and understanding, for the realization of your divine will.
Mary, our mother, you are our queen, Queen of Heaven and Earth.
We are your loyal knights ready to serve at your command.
Use us according to the will of your Son.
Nurture our faith and keep us faithful to the Church and its teachings.
Mother, take us each by the hand and lead us through life to eternity with you and your Son.
Father McGivney, intercede that we effectively continue your work for God and Country
And recruit new members who will be consistently faithful in following your mission.
Pray that we always live up to the ideals of the Knights of Columbus which you founded.
* When time at a meeting is short for oral prayer, the second and/or third paragraphs (**) may be omitted.
Lord, you are the Christ; Christ my King.
Please use me according to your will.
Wherever You send me, I will go.
Whatever you ask of me, I will do.
What mission you give me, however small or great, I will embrace.
And when you take that mission away from me and give me another,
I will always accept your will with the same zeal and trust
Even if it is a life of prayer and sacrifice in a sick bed…….
as I unite my cross with your Cross
by offering up my aches and pains to you as a dynamic prayer for the Church, my family,
and the world.
* If you are a Knight and like these two prayers, you might want to consider reciting one or the other at the beginning or end of meetings and ceremonies either regularly or occasionally. You may also consider giving copies to your members and to newly inducted 1st degree knights.